They are elastomeric coatings, usually of two-component, but also mono-component. Once applied, they generate a continuous and highly resistant waterproofing coating.
This type of coating allows to apply a continuous layer, without joints and of high flexibility, adapting to any irregularity that may present the surface.
They offer great mechanical and chemical resistance (especially Pure Polyurea), providing tightness and total insensitivity to humidity. On the other hand, they have excellent adherence to any material, protects from corrosion and can be applied on wet substrates with a pre-treatment.
These coatings are indicated for roofs, facades, terraces, balconies, swimming pools, tanks, and industrial uses among many other applications.
Solutions for every project
Top quality waterproof membranes that are formed from the application at high temperature and pressure of their liquid components. It has high mechanical properties and a excellent chemical resistance. Its excellent properties make it one of the most widely used membranes in works with high technical requirements.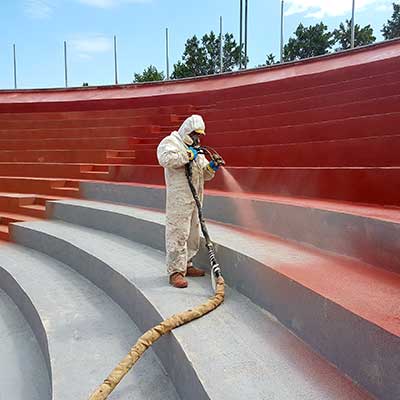 Why Synhtesia Technology?